It's official.  I'm in my middle forties, and I can't lose one pound without paying close attention to how much I eat, and at least 30-45 minutes of exercise five days a week.  
What a bummer it is to get old, but at least today we have access to super food tracking apps, books, fitness gadgets, and online communities for encouragement.    
So, over the next couple of posts I thought that I would share some of the ways that I keep my forty-year old self in reality, and first up is how I track my daily calories, carbs, and fiber. Check it out below!          
In the olden days, most of us had to write in a daily food journal of what we ate for breakfast, lunch, dinner, and snacks.  You also had to get a food calorie counter book, and search for your foods calories, carbs, fats, or sugar counts, something like the following book below:    
The Calorie King is a super book, for those of you who like to have an actual "book" in your hands, and want to write everything down.  But, for me personally this method would maybe last about a week, because it takes way too long, and I just don't have the patience.  So, my absolute favorite way to track my daily intake of calories, carbs, and fiber is with MyFitnessPal app.  
I have had this FREE app for a couple of years now, and what I like is that it's user-friendly, fast, and I can customize the foods that I eat.  
For instance, if I only have 8 almonds for a snack, I can record that exact amount.  (I'm one of those people who really wants to know how many calories & carbs are in a single Hershey's kiss)  🙂  Some of the other apps that I have used will not let you break down your food calorie counts like this.  
Also, it's very rare that I don't find a certain food in MyFitnessPayl's extensive data base, which a huge plus.  And finally, it's so darn smart that it remembers the foods that I eat on a regular basis, so I don't really have to enter them again.  I just click on in the tab that says, "frequent" and see my faves and click away.  DONE!  🙂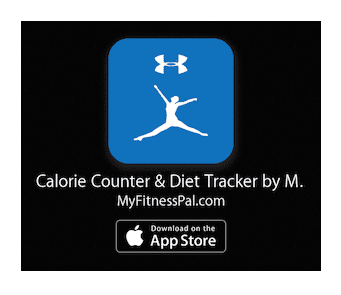 I really think that it's important to track what your eating every once in a while, because many times we are eating way too much and that's where the weight gain comes in.  
I've been trying my best to teach this to my teenagers, because they are used to eating what ever they want, and we all know that has to change as we grow older.  
Next post is all about how I combine MyFitnessPal with my FitBit fitness tracker, cause I got to move it, move it.  
Disclosure:  Just so ya know that some of the links above are my affiliate links, and I may get a small commission if you decide to buy.  As always, I thank you for stopping by and spending time with me, and I hope that your New You is well on its way.