I can't quite feel the cooler air here in East Tennessee, but at least we are in the middle of September, which gives me some hope!
It also means that the Halloween season is right around the corner, and I can't help but reminisce about the old days of Halloween, and what they mean to me now.
If I'm honest, I have a mixture of feelings about how this holiday has changed through the years, some good and some bad, and maybe just a part of me misses how simple things were back then.  
So, in the spirit of this Spooktacular holiday, here are some of changes that I have observed & participated in over the years,  Let me know if you have any others by commenting below.   
Candy, Candy, and More Candy!
This is a touchy subject for me, because when I was a kid, getting candy was the MAIN thang!  
I grew up in the 70's & 80's, and back then you simply walked up the sidewalk or driveway of your own neighborhood, sang the Trick or Treat song, grabbed only a piece or two of candy, and moved on!  
We were happy with whatever candy we received, and we would have NEVER looked inside our plastic pumpkins to see if we received premium candy or not.  Yep!  I said it!  
Also, my parents didn't spend hours dropping us off in different neighborhood's so we could get even more candy.  🙂    
Now, I happen to live in one of those neighborhoods where the parents drop off the kids, and I look forward to seeing all the different costumes and smiling faces.  
What makes me sad, is that every year I notice that less people are participating in the candy giving, and I would say it's because it's too expensive.
Let's face it, with how much Halloween candy prices have gone up over the years, you almost need to start a yearly Candy Fund right along with your Christmas one!  
So, here are a few tips on how I save on my Halloween candy!
Clip those coupons – I start looking and clipping though my Sunday paper and online coupons such as coupons.com, red plum.com, and smart source.com starting in late August and match them with my stores weekly sales.  It takes some effort, but it's well worth it.     
Download Some Apps–  I also look for savings in my favorite money saving apps such as:  
Check these suggested apps, and any other's that you may find on a regular basis, and once again match them up with your coupons and weekly stores sales.  
Trust me, these savings add up fast on these apps, and I like to keep my cash savings in there all year, and around Christmas time I either cash it out or get gift cards for friends and family.  
I also use my favorite grocery, drug, or discount store apps as well!  I have saved a ton of money by regularly using my Kroger, CVS, Walgreens, Target, and The Dollar Store apps!  
In fact, these stores pay close attention to what I am buying and I often get personalized digital savings on the things that I purchase on a regular basis.  
Heck, I can't tell you how many times I've gotten FREE or heavily discounted items simply from being a loyal customer to these awesome stores!  And this includes Halloween candy by the way!  
Sign up for e-mail newsletters  – Don't forget to sign up for your local grocery, drug or chain store's email newsletter!  
They will give you special coupons as well, as well as tips on how to save at their stores.  In fact, the Dollar Tree newsletter is full of wonderful ways to save on holiday decor & treats.  
I like to get their bags of Halloween inspired toys or candy to pump up the volume of my trick or treat candy tub.  
I also like to wait a day or two before Halloween, because many of these stores start to discount their candy!  
Costume Crazy!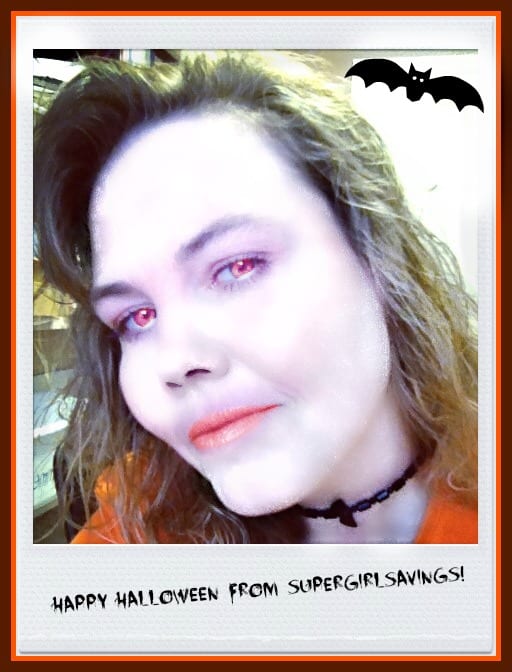 Who would have ever thought that we would spend the amount of money that we do on costumes!  
I could personally spend all day looking at kids, couples, or group costumes, but I have to admit that some of the costumes can be a little pricey.  
We were much smarter when we were kids, we simply painted our faces or cut out some holes in a sheet and went about our way.  
Today, people spend months either creating their own costumes, or surfing the internet at Halloween retailers such as:
Halloween Express
TrendyHalloween
HalloweenCostumes
These Halloween super stores offer a variety of costumes that you just can't find in your local stores, plus home indoor & outdoor decor, and party essentials.  
If you start shopping early, the discounts are huge, plus many times the shipping is free.  
If your a DIYer, then you must head to Pinterest, and here's my Halloween Fun board if you would like to connect.  
Halloween Indoor & Outdoor Decor

 
A long, long, time ago, the only home decor you saw on Hallow's Eve was one, lighted, carved out pumpkin on the doorstep!  That's it folks!  
Today, people start decorating for Halloween weeks in advance, with purple, orange, or yellow lights, lawn ornaments, and blow up inflatables that truly are amazing.  
It used to be that Christmas time was the only time you did this, but not anymore.  
This part of Halloween is my favorite, and I love to see all the creative ways that people decorate their homes inside and out.  
Here is one of my favorites below.  

One of the best places to get Halloween decor is good ole Amazon!  
The above inflatable cat
is available for $89, and if your a prime member, you get two day shipping for free!  
Also, if your a DIYer, the items on your project list will almost always be available at a super price, or you can also head to E-Bay to compare.   
I hope that you have enjoyed remembering the old days of Halloween with me, and I look forward to seeing what super, spooky, creative ideas that people come up with this year.  
No matter what each holiday brings, it makes me feel like a kid again, and that's what makes it all worth it.  
I wish you all a safe & spooktacular Halloween season this year!