When I first bought my home over 10 years ago, the last thing I thought about was putting a garden in the back yard.  In fact, the majority of my yard is a huge concrete patio, which at the time was great, because it meant less grass to cut!  🙂  But, over the years, the gardening bug had gotten a hold of me, and with the help of my hubby, I found some super DIY small space garden design ideas, that have brought a fully functional garden into my backyard.  Below is a timeline of my garden design ideas, which I hope will inspire some of you to also become a fellow green thumb and make "growing your own" a part of your lifestyle.  Gardening has helped my family and I afford fresh produce, which not only tastes the best, but is a great way to stay healthy for less.
My very first year of gardening, I bought some huge planters and grew some tomatoes, green peppers, and herbs.  Seriously, it couldn't get any easier, but I wanted to grow more, so that I could can my garden goodies for the winter months.  So, the following year my hubby and I took advantage of some flat area space right behind my house, and we built three raised bed gardens.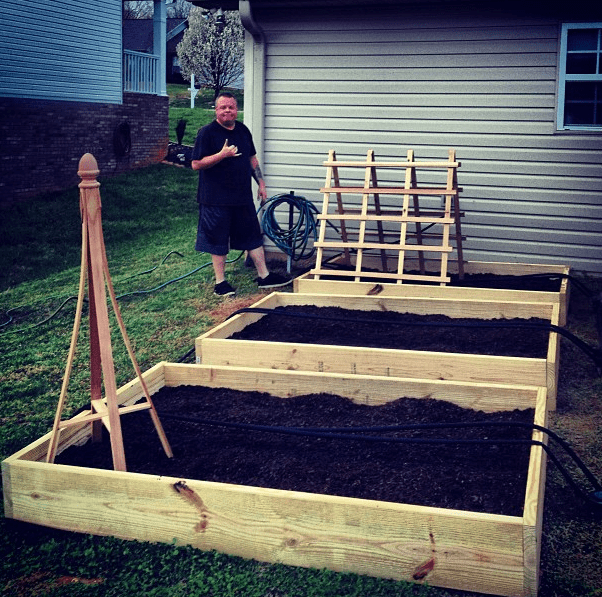 We also added some wooden trellises to the ends of our raised garden beds, which allowed us to grow vertically and add more veggies such as beans, cucumbers, and squash.
Below, are some ways that we found ways to grow veggies and herbs on our patio.  First up, is our pallet beds.
A friend of mine found this huge pallet box on the side of the road, and I converted it into another planter, it's below my DIY herb planter.  Check out the swiss chard that grows like crazy in it.   🙂
And finally, I wanted a way to walk right outside by back door and add fresh oregano, basil, mint, cilantro, or dill to my daily meals.   So, we built a DIY Herb Planter.
I hope that you can see how much fun gardening can be, and if you would like to see what has come out of my garden click

here