It has been in the 80's here in East Tennessee over the last several days and I for one have been enjoying every bit of it.  I planted my garden beds over the weekend, and then headed over to mom's and planted some goodies in her garden beds as well. Speaking of moms, it dawned on me that Mother's Day is right around the corner, and although my mom likes traditional gifts, she really enjoys things that are quirky and functional.  So, if you have a mom that loves getting new, creative, innovative gifts that were invented by people just like you and me, then check out these quirky finds at Quirky.com.
The Crossover
($29.95)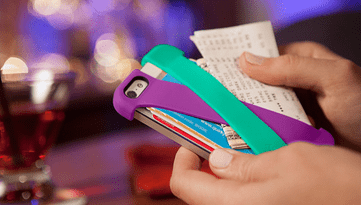 If you have mom who owns an iPhone 5/5s then this case with two crossover straps that hold credit cards, money, and receipts is the perfect gift for any mom who loves to shop!  🙂 
Verseur Metal + Levier
($29.99)
My mommy loves wine and having a beer once in a while,  so this 4-in-1 wine opener and magnetic bottle opener would help her open, serve, and save a bottle of wine.  The added Levier also pops open a bottle of  beer and traps the cap so that it doesn't  fly onto the floor.  (Seriously, that's really irritating).  LOL      
Nibble 
($12.99)
How many of you love to bake a cake, but want to make sure that it tastes right without wrecking it?  Well, with this pan you can, check out the little nibble bite that pops out!  I love this idea, because it makes sense and it's only $12.99!   Super, saving, price!     
These are just a few gift ideas that are available at Quirky, and in honor of Mother's Day they are having a sweet sale so click on the link below: