I hope that everyone had a wonderful Christmas with your family & friends.  My family and I enjoyed some good eats, drinks, and plenty of Karaoke singing!  We have 6 teenagers in our family, and every year my sister and I like to give each of them a silly gag gift, and it's hilarious watching their goofy reactions as they open these gifts.  (It sure makes Christmas shopping all the more fun).  🙂    My mom on the other hand, had been talking about learning to quilt with her sewing machine, and since I am such a huge fan of Craftsy, I told her to pick out three quilting classes, and the following classes were gifted to her:
Quilting Quickly
Machine Quilting Home Sweet Home Quilt
Quilting Big Projects On A Small Machine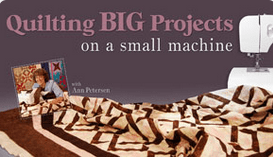 My mom was so happy to receive these classes, and I have no doubt that her quilts will be beautiful when she is done, and   I promise to share some pics.  So, now that the holidays are almost over this is the perfect time to give yourself a little gift, and take advantage of the Year End Clearance Sale at Craftsy, and create something new over the winter months.  
Just so ya know, that some of the links above are my referral links, which means I may get a small commission if you make a purchase, at no additional cost to you of course. Thank you for your support, and I hope you enjoy these crafting sales!