Spring is almost here, and this is the time to start planning, finalizing, or possibly asking the one you love to "marry me"!  I have noticed lots of sales circulars, wedding shows, and fantastic online prices on all things "wedding".  But today, I would like to share with you some of the wedding jewelry (wedding sets, bridesmaids gifts, groom, or moms-to-be) that are not only beautiful, but going quickly because their prices are deeply discounted!  I LOVE jewelry, because it's just one of those things that represents a timeless memory and our personal style.  



Whether your into sterling silver, stainless steel, or classic gold, all of the following websites have you covered.  Let's be honest,  not all of us can afford to buy a $5000.00 wedding set, but we still want to have the ring of our dreams.  Or maybe you would like to give a jewelry gift to the members of your wedding party, to thank them for being a part of your special day.  So, here are some websites that offer quality jewelry at fantastic prices, and my only regret is that if I didn't purchase an item in my size right then, it was usually sold out when I went back!   BOO!  So, try to get yours before they are gone!   Happy shopping, and I hope that these links help you find some ways to save on your wedding day!    
 Shop wedding sets at Inspired Silver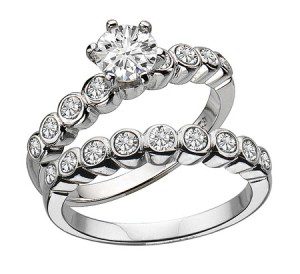 Save up to 60% OFF Retail Pricing on Beautiful Jewelry from Inspired Silver and get FREE SHIPPING on orders over $60! Shop Now
Another great site for quality jewelry at discounted prices is

Emitations

!
Shop Emitations: $3 off Any Sterling Silver Ring $30 or more
And if you are looking for wedding gifts for bridesmaids, such as wedding charms, bracelets, necklaces, and rings then you must head to Pugster!  I love their prices and unique jewelry pieces.  Just go to their gift center and click "Wedding Jewelry"
Of course, some of us want the big, bold, gold so go

here

!