Although the wedding day is very special, it's the ring that lets everyone know that you found your someone special in life. 
In my own love story, I'm going to tell you that I lost my wedding ring twice. 
You heard it, and how that happened I have no idea, but I did, and I was young, and didn't have insurance on it.  Ouch!  
Having said that,  I decided to replace it with something that had some bling, without the price.
 I opted for a simple 1 ct. 14K gold band ring with simulated diamonds, that if it were real deal, would cost me over $2000 today.  
In reality I got this simple beauty for the super saving price of $200.  Cha-Ching!  🙂          
I have had this ring for over 26 years now, and it looks just as good as when I purchased it all those years ago.  
In fact, I have bought several other pieces though out the years, and I am a huge fan of all things big, bold & beautiful without the huge price!  
AND this brings me to your wedding day and how you can save on your jewelry accessories for yourself and your bridal party.  
This bridal set is available at Amazon for around $35, and I love how it incorporates the classic pearl element with a little modern bling.  
It comes in rose, white, and yellow gold combination and is a perfect choice for the entire bridal party at this price.  
Click here for more ideas:  Wedding Party Jewelry Sets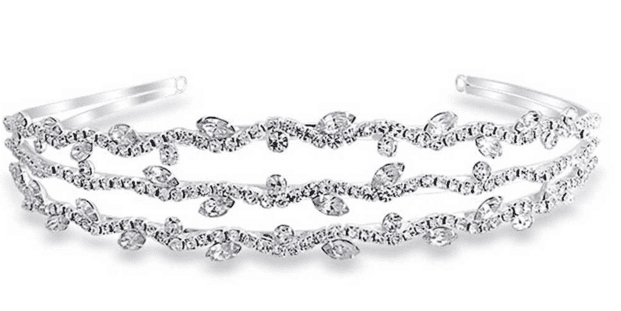 Another great place to find bridal or themed jewelry is Ebay & Amazon.  
For instance, this Triple Row Tiara is only $35, and if you're looking for gift ideas for the bridesmaids or groomsmen to wear this is a super stop to shop.    
This silver glitter clutch is simply stunning with all its bling, and cute bow closure on the top.  It's available at the bridal page at Amazon.com, along with bride to be, bachelor or bachelorette party, and day of wedding gift ideas that will surely make your day special for a fraction of the price.  
These are just a few places that are worth checking out for your wedding day jewelry & accessories, not only for the beauty and design, but more importantly the super prices.  I also like how each place gives you themed visual blueprint, with style tips to help you with all the details.  
Just to let you know that some of the links above are my affiliate links, and if you decide to buy I may get a small commission fee.  I really appreciate your continued support of my website, and I hope that you stop back by, and let me know about your wedding day savings.