I admit to living two different lifestyles!  On one hand,  I love rolling my sleeves up, getting my hands dirty, and tackling as many DIY projects as I can.  Then there is the beauty queen side of me who is always keeping up with the latest hair, make-up, and fashion trends.   Believe it or not, I used to be a licensed cosmetologist who walked out the door everyday with perfect hair & make-up, and the pretty nails to match.  (Thank goodness I don't HAVE to do that anymore…..)   LOL
I could literally spend hours on Pinterest,  searching for make-up ideas, current hair styles, jewelry, & trending style fashions.  Of course, because it's in my nature, I try to find ways to save on all of these things!  🙂   One of the current trends that I am really enjoying is the comeback of the Vintage dress, and all things retro.  Below are some Vintage dresses that I have found online and here are some ways that you can save to achieve this look.  
 Vintage Dresses
I love vintage dresses!  They are perfect for all shapes and sizes, which is a huge plus for the curvy ladies out there.  There are several ways that you can save on getting these awesome dresses into your wardrobe, you can make one yourself, buy it online or in the store!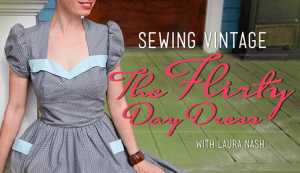 Vintage Sewing: The Flirty Day Dress with Laura Nash
If you want the perfect, fitted, custom Vintage dress then you must take this new class being offered by Craftsy.  You will get: 
8 HD video lessons with anytime, anywhere access
A plethora of vintage sewing techniques that you can use over and over
A free pattern included with purchase of the class!
Over 3 hours of close-up instruction
Answers from the instructor in a virtual classroom
If you just don't have the time to make your own vintage creations, then your next best place is ModCloth.com!   They have all things vintage, and in all sizes.   You can pretty much experience all decade eras at this super online store.   
And finally, if your willing to take your time and search,  you can find some of the coolest outfits at your local thrift & consignment stores.  The best part about these places, is that if you sign up for their mailing list, they will alert you when they are having an upcoming sale.  Many times, I have walked out of these super saving shops paying only a couple of dollars for an outfit.  I would love to know if there are any other Divas out there who love vintage designs as much as I do, and where you find your super buys?