With Memorial Day & July 4th right around the corner, it's always fun to display your love of the USA with some outdoor red, white, and blue outdoor decor.  Here are some really neat ways to decorate your gardens, walkways, and front doors and share your patriotic flair! I like to share a mixture of DIY ideas if you are a crafty creator and have the time, but if not, here are some unique July 4th themed items from Amazon.com.
 

Patriotic Cowboy Boots July 4th Garden Planter
SORRY, NO LONGER AVAILABLE
($11.99)
      I have no doubt that down here in the South, this patriotic cowboy boot planter will be a big hit in any garden.  These are just down right boot scootin boogie cute!        
Patriotic Cutoff Jeans Novelty Garden Planter
SORRY, NO LONGER AVAILABLE
 ($14.99)
    And for goodness sakes, you can't forget to add these super cute red, white, and blue cut off jeans to plant some fun flowers and complete the set.  🙂        
What I really like about this DIY Patriotic Garland from FunHomeThings.com is that it's extremely easy to make and cheap!  Most of us have some white sting lights leftover from Christmas, and you can get red, white, and blue plastic tablecloths at a dollar store for practically nothing.      
Patriotic Uncle Sam Lamp Post Solar Garden Figurine
SORRY, NO LONGER AVAILABLE
($24.99)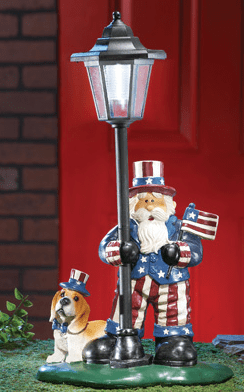 You can't have a 4th of July night party without some lights, and this solar-powered dynamic duo is simply perfect for that.  I love the facial expressions on both of their faces, and of course the puppy with his top hat, really makes it special.      
The creative design ideas are endless with this DIY Patriotic clothes pin wreath from AllYou.com. You could also make this DIY reversible Wreath For All Occasions that I found at WrittenReality.com.   You simply flip this wreath over and another holiday season is the other side, which is super economical, double the fun to make, and  festive.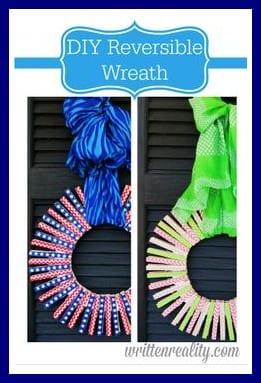 Set of 3 Patriotic Eagle Solar Lighted Yard Stakes
SORRY, NO LONGER AVAILABLE
($14.99)
      I love landscapes or walkways that feature lighted yard lights as part of their outdoor decor.  The lights are so beautiful when they come on at night, and how cool would these Eagle solar-powered yard stakes be on the July 4th evening?           ($15)   Just so you know, that some of the links above are my referral links, which means I may get a small commission if you make a purchase, at no additional cost to you of course.  Thank you for your support and I hope that I have inspired you to add a little red, white, and blue to add some patriotic fun to your outside decor this summer.