If your like me, I have all kinds of mixed emotions when it comes to buying a swimsuit.  First of all, I love water and water activities, probably just as much as the kids do.  So, not wearing a swimsuit, because I'm not 100% happy with my body is not an option.  So, I am thrilled that there are a ton of swimsuit selections out there for us curvy divas who like to actually swim, and retro seems to be the swimsuit style for me.  
I love how these suits can cover the areas that I'm most concerned about, and since I'm pear-shaped, I like to have a little extra cover on my butt & thighs.   Awww…..heck who am I kidding, I would say no matter what size you are, most ladies like a little coverage in the arse.  LOL  So, below are some retro suits that I think are made to play in the water, and look good while you're at it.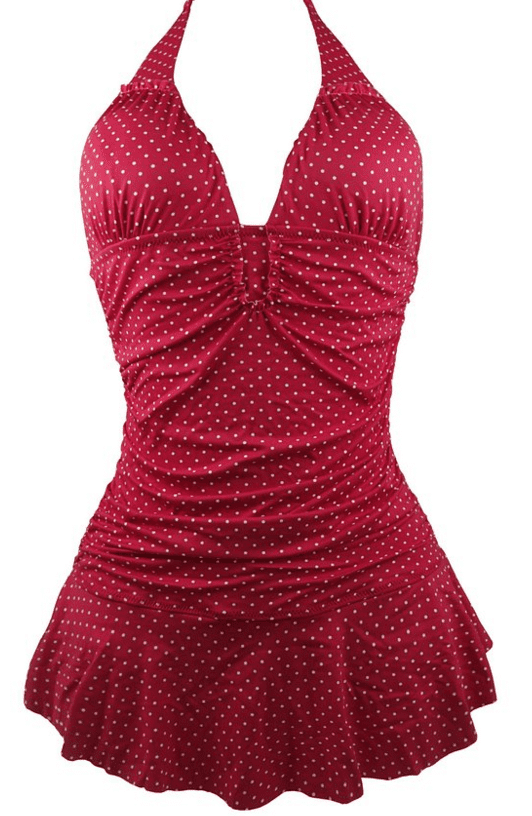 I don't know about you, but I love me some polka dots!  And, when you add a flattering halter top, and flirty skirt it makes the perfect swimsuit for those curves.  This retro one piece beauty is only $25, and available with Prime two-day shipping on Amazon.  
(Just so you know…..you can now pay for Amazon Prime on a monthly basis.  $10.99 a month, or $99 a year, it just depends on how much you shop here.  
(I shop at Amazon a ton, I also enjoy the music, movies, and digital books, so a yearly membership makes more sense for my family and me)!  
Sometimes a lady wants to wear some shorts, and if you add some ruching down the front it minimizes your tummy!!  This boy short bathing suit is a win, win, and available at Amazon for $27.    
I love this hot pink suit with fringe, and it's perfect if you want to wear a two piece that has a high waist that will also cover your tummy.  It comes a variety of colors and sizes at $15.  
I love anything that is sailor inspired, and this white stripes over blue reminds of a 30's era swim suit with plenty of coverage.  It's available at Amazon for $27.  
This suit is made for swimming, and the black and red dots, are simply hot!  Available at Amazon for $24
I hope that you liked some of my retro swimsuit picks, that are available at some super prices.  I love the styles, cut, and patterns of these vintage inspired suits, and hopefully you will find your perfect suit that not only looks good, but is practical for getting out in the sun and having some real fun.  
Just so you know that some of the links above are my affiliate links, and I may get a small commission fee if you decide to buy.  Thank you for your continued support.