Call me crazy, but I love ugly Christmas sweaters!  
Not only are they festive, but they remind me of all the crazy, colored, outfits that my late grandmother would wear around the holidays.  
For instance, her plaid, red & green, polyester pant suit set was her pride & joy go to outfit for Christmas Eve!  
I suppose when I was really young, I didn't think anything about it, but as I became older I realized what a, "WOW GRAMS" outfit it really was.  🙂  
So, when I see ugly Christmas sweaters I can't help but think of all the wonderful times I had with my grandparents growing up, and really that's what Christmas is all about, being with your family & friends and making memories that will last a lifetime.  
Now comes the fun part, I thought that I would share some of my favorite Ugly Christmas Sweater picks, and hopefully they will give you a laugh, help you remember past Christmases, or maybe you just might want to keep the tradition going by getting one for yourself.  (That's if your brave)  LOL
This post contains affiliate links, which means that if you click on one of the product links, I'll receive a small commission fee if you decide to buy.  Thank you for your continued support.  
Crackling Fireplace Knit Ugly Christmas Sweater
This lighted up crackling fire place Ugly Christmas Sweater is so cool!  You basically download the FREE app, slide your phone in the see through fireplace, and it comes alive!  
Light it up I say, and at Amazon with various sizes and colors.  
Men's 8 Bit Santa Ugly Christmas Sweater
Ho! Ho! Ho!  This sweater totally reminds me of my grandmother's plaid Christmas outfit.  It's so ugly its beautiful.
Ugly Christmas Sweater 3D Printed Funny Graphic Pullover Sweatshirt
Well, I suppose if you're a cat lover this Ugly Kitty Christmas 3D sweatshirt makes total sense.  I love this cat's grumpy face and the bells look like hair balls to me.  LOL  
(Bucktooth Rudolph Sweater Dress
This Reindeer is ugly but cute with his pom poms.  I love the length, and you could really glam it up by wearing these sparkle leggings that come in regular and plus sizes.  
Women's Ugly Christmas Leggings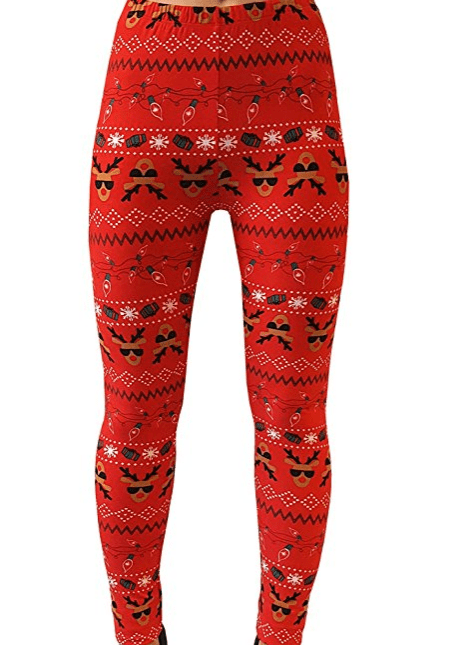 Maybe you would rather go with some Ugly Christmas leggings?  These come in a variety of sizes and styles, and if you really want to get noticed at your next party, pair it with the shirt below.  LOL  Amazon $5
Faux Real Men's Ugly Cardigan with Tie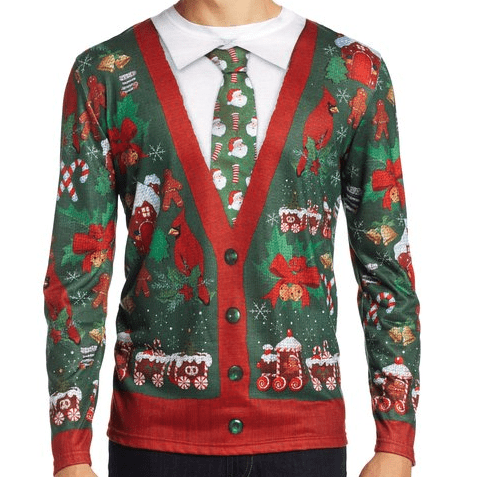 Finally, here are two ugly, long-sleeved t-shirts for both ladies & men who don't like to wear sweaters!  Both of them are available at Amazon.com.
Ugly Christmas Sweater Cardigan
Cardigans are pretty much flattering on anyone, and the variety on the link above is perfect for all shapes and sizes.
Finally, if your really into crazy Christmas decor and more, check out my
I hope that you have had some fun looking at my fun, festive, Ugly Sweater picks, and just so ya know that some of the links above are my referral links.  This means that if you decide to have some holiday fun this year and buy one I may get a small commission fee.  Thank you so much for your continued support.