Halloween is almost here, and if your like me, it brings out the kid in me every year. I enjoy wearing spooky-themed dresses, sweaters, tunics, leggings, or jewelry throughout the month of October which allows me to participate in the season for more than one day. So, I thought that I would share some super cute, trendy, and festive Halloween styles that are perfect for wearing to work, and into the night. Check out my spooky picks below (some are affiliate links) and take advantage of the super prices.
This little orange & bats dress is simply perfect for any Halloween activity. I would add a little black cami-sweater for work, and add a pair of black leggings and boots if it's chilly outside. This Cow Cow dress is available in a variety of different Halloween patterns and sizes, including plus for around $18.
This Halloween bats long sleeve tee is made by Cherokee work wear. It's subtle enough to wear with any medical scrub outfit, and after work add a fun pair of leggings, or mini-skirt like the one below. It's available for $19.
What's great about these spider web leggings is that their mostly black, and subtle enough to wear to work. Their available in all sizes and priced around $17.
I have several friends that own this awesome cardigan, and it really is perfect for the Halloween season. Best part is, that it's extremely inexpensive and comes in several different sizes. There going fast my super saving friends so get yours now! $20
Halloween Floating Charm Locket Necklace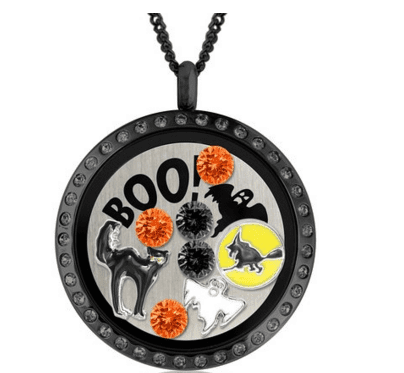 I never turn down a boo-ti-ful piece of jewelry, and I think this Halloween Floating Charm necklace is a great choice for those who want to add just a little Halloween fun to their outfit. It's available in several different styles, and metal colors for $20.
These are just a few Halloween fashion styles that are available on Amazon, and don't forget to look for the savings on costumes, accessories, and candy while your there. I hope you all have a safe & happy Halloween night, and just so ya know that some of the links above are my affiliate links, and I may get a small commission fee if you decide to buy. Thank you for your continued support.