How many of you curvy-li-cious divas out there have been trying to find the perfect Halloween costume that fits just right and looks really nice?  🙂  From what I've seen in the stores, you might as well wear a potato sack, because the costumes for plus size women are just frumpy & dumpy!  
Now, there's nothing wrong with that if your into that kind of look, but I know many plus size ladies out there who want to look just as good as their less than curvy female friends.  So, here are some super trendy Halloween costumes that I have found at Trendy Halloween  that will accent those curves and make you stand out at this years Halloween festivities.   
(Note: The links in this post are affiliate links, and I will be compensated when you make a purchase by clicking through my links. Read my disclosure policy here).
I love the name of this outfit, Combat Cutie, because it's just that "cute".  You could also wear this costume with some black leggings & combat boots.  🙂    
You can do some serious "Kung Fu" action with this Drajon Ninja outfit.  Pink & black are my favorite colors, and the matching leggings are perfect for a cooler evening.  
This Funky Punk Bones 80's inspired ensemble fits me to a T.  Not only am I a 80's babe, but I love the neon colors!  Of course, I would have to make my hair style BIG & POOFY. Totally ghoulish….
If you're a little more conservative, and would like to feel like royalty then this Roman Empress costume is a perfect pick.  I love the colors and that gold trim just pops!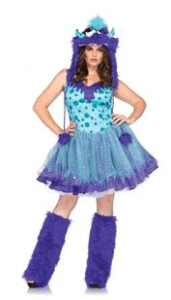 This  Polka Dotty Monster is young, fun,  and monstrously cute!   
Here's a classic Red Riding Hood costume with a little Va-Voom that's new for 2013!   
Trendy Halloween also has some super men's plus size costumes as well,  so if you have a plus size guy to buy for this Halloween season then click below and get yours before it's too late!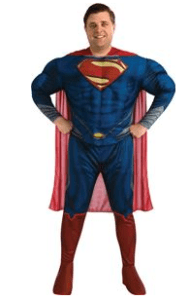 Let's not forget our super duper guys, who secretly enjoy dressing up as they did as kids!  
Just so you know, that some of the links above are my referral links, which means I may get a small commission if you make a purchase, at no additional cost to you of course.  Thank you for your support and I hope that you find that spooktacular Halloween costume that fits just right!