I only wish that they had these Hydroponic Gardening Dome Kits when my kids were youngsters! No dirt, just nutrient rich water to grow your own plants!!  Which means No Mess!  What a great way to teach the kiddies about biology and the value of growing your own veggies, fruits, and herbs!  I think these beginners kits would be perfect for adults too, simply because some people can't be out in the sun or are physically incapable of tending a garden.  All of these kits are available on Amazon, but the quantities are going quickly, so don't wait if you are interested.  
This complete kit comes with everything you need, greenhouse with hydroponic tray, two-part nutrient, net pots, rock-wool, seeds, hydro-pump for aeration and complete instructions.  Grow those greens!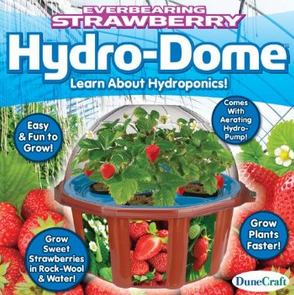 Maybe greens aren't your thing, so here's a strawberry kit that any kid or adult would surely love to experiment with.   
Finally, if you want to take it up a notch, then go for this Miracle-Gro hydroponics herb garden.  This is nothing like fresh herbs when your cooking, and with this system every thing you will need is right at your fingertips, including the seeds.  🙂

I have no doubt that some of you will see the value in this type of food growing system, and I really do believe that it's going to be the wave of the future for many up and coming gardeners.  I also found a video on Youtube for all of you DIYers who would like to build your own basic hydroponics kit.  I'm always up for new challenges.

    

    If any of you dig in and try one of these hydroponic systems, please share with all of us.  I also want you to know, that some of the links above are my referral links, which means I may get a small commission if you make a purchase, at no additional cost to you of course.  Thank you for your support!