Ok…it's time to get a little mushy this morning.  My son turned 18 years old yesterday and he is now a young man, but this morning before he left for school he walked into my room and still called me "mama".  Which of course makes my heart swell because to him I will always be his, "Mom" and it's rare that a day goes by that he doesn't tell me he loves me. Awwww…..I know.  🙂   So, with Mothers Day right around the corner I thought that I would share some super jewelry gifts that will tell Mom just how much you love them!  🙂  
Hand stamped necklace – The Love Between a mother and SON is Forever Necklace – Mommy Necklace – Tag Name
($45.00)
This Mother-Son jewelry piece is so special, because it can be personalized and it's just down right trendy.  It's available at Amazon and  click on the box below to receive up to 50% off on selected Mother's Day jewelry gift selections.     
 

  I could go on and on about the different Mother's Day Jewelry Gift ideas available at Pugster.com.  You can create your own personalized charm bracelet with charms as low as .99 cents!  

Pink Crystal Silver Plated Best Mom Spacer Set Leather Fits Beaded Bracelet

($68.00)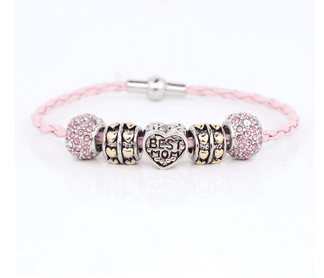 ($19.99)
My mom rocks and I would consider her to be one of my favorite BFF's.  The words on this sterling silver necklace says it all and it's available at BlingJewelry.com
  These are just a few of the super Mother's Day Jewelry gifts available online, and  some of the links above are my referral links, which means I may get a small commission if you make a purchase, at no additional cost to you of course.  Thank you for your support, and I hope you enjoyed looking at some  jewelry finds & savings.