I am one of those people who love watching DIY reality tv show competitions.  Some of my favorites is Four Weddings, Next Great Baker, and Master Chef.  It's so cool to see what creative ideas that these people come up with, because sometimes they work out, and sometimes they don't!  🙂  But, this should give the rest of us hope, because to be the best, you have to learn, try, fail, and start all over again to get it just right.   I've also seen some great examples of people saving some serious money by making their own wedding cakes, desserts, or appetizers which is really inspirational for those of us on a budget.  So, if you're considering making your own DIY wedding cake, baking some specialty breads this holiday season, or simply want to learn how to make an authentic buttercream frosting, then check out the online classes & discounts available at Craftsy!
You got to start somewhere right?  Well here's a class on mastering buttercream skills!  

Class Description:

Learn to pipe the buttercream decorations of your dreams, and apply your skills through three festivity-friendly cake projects. Expert cake decorator Beth Somers teaches all the essentials, from achieving the perfect icing consistency and color to filling and handling different styles of decorating bags. With confidence in the basics, you'll be ready to use star tips to pipe borders, zigzags, scrolls, and much more. Attach a round tip to start piping stringwork, latticework, Cornelli lace and writing. Then switch to petal, basket weave and grass tips to pipe textured decorations that make your designs pop! You'll even use a flower nail to bring ribbon roses and shaggy mums to life with ease.  Click here to give this class a try!  
This class is perfect for anyone who wants to add a little something special to their wedding, baby shower, graduation, or any other special occasion cake.  How cool would it be to learn how to make your own cake topper!!  🙂  
Class Description:
Create adorable toppers with fondant pro Brenda Walton's tips for achieving her signature sweet faces, precise fondant measurements and more. Start by making a groom topper with tailored pants, four-button jacket, bow tie and boutonnière. Bring his bride to life with a ruffled gown, bejeweled bodice and beautiful bouquet. Make a lovable grandma holding a cake she's ready to serve and a jovial grandpa wearing comfortable khakis and a dress shirt. Create a daydreaming little girl with a fun sash and frilled accents on her dress. Plus, learn how Brenda makes her figures even more impressive with shading and painted details. Add personalized toppers to your cakes and show guests of honor just how special they are.  Click here if your interested in this class.
I had to slip this baking class in for any of you who are going gluten-free, and want to enjoy the upcoming holiday season of baked goodies with the rest of your family & friends.  
Class Description:
Join Certified Master Baker Richard Coppedge Jr., as he shares years of research and expertise in baking mouthwatering gluten-free treats. Get started by learning how to mimic the texture and taste of your favorite gluten-filled goodies. Then, create custom flour mixes, one for tender doughs that won't crumble and one for stronger doughs with the structure you need. You'll even find out how to modify commercial gluten-free flour blends for your own unique uses. Moving on, whip up the ultimate Saturday morning pancakes, and ensure that your cookie jar is always well-stocked with jam-filled spritz, Mexican wedding and shortbread cookies! Favorite quick breads like blueberry muffins, biscuits and Irish soda bread will no longer be out of reach after learning Richard's secrets for mixing and baking. Plus, create the perfect pie crust filled with luscious chocolate cream. Finally, master the holy grail of gluten-free baking — light, yeast-raised bread!  Click here for this class!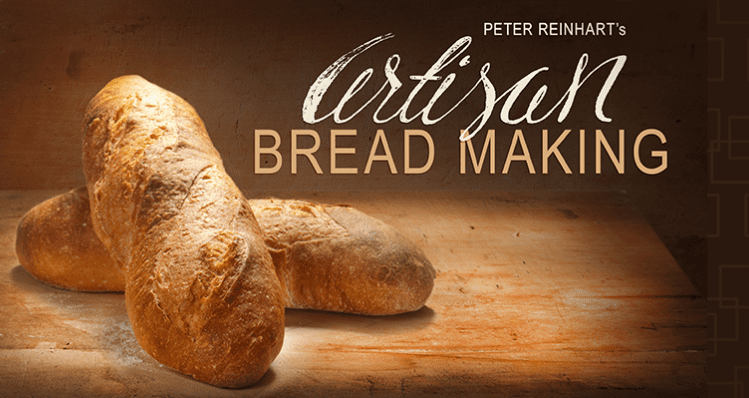 And for those of you who want to learn the fine art of bread making the old-fashioned way, this Artisan Bread Making class is for you!    
Class Description
Let Peter Reinhart, baking instructor at Johnson & Wales University and award-winning author of The Bread Baker's Apprentice, introduce you to bread-making techniques that go beyond the recipes and raise your baking skills to a whole other level. Explore the 12 stages of bread making and learn trade secrets for measuring, mixing, proofing and baking six different types of bread, including supple French bread, rich marble rye and a sweet chocolate babka. Learn to balance time, temperature and ingredients to create delicious, fresh breads in your own kitchen.  Click here if your interested in this class.  
These are just a few of the online cooking classes available at Craftsy, and because I am an affiliate with Craftsy, I want you to know that I may get a small commission if you decide to buy one of their classes, kits, or supplies at no cost to you.  I really appreciate your support, and if you want to start out with a FREE class, just click on the pic below and give Craftsy a try.  🙂