Last year was the first year that I didn't have a garden due to an injury.  This year, I'm re-designing my urban backyard garden, because unfortunately, I am still have some body aches and pains.  Here's some ideas that I think will work for me below:
(The links in this post are affiliate links, and I will be compensated when you make a purchase by clicking through my links. Read my disclosure policy here) 
Since bending over can be a real problem for my lower back, I am going to bring some of my plants upwards and off the ground.  I have found some really cool planters online, and some DIY ideas that maybe my hubby and I just might try, like these DIY Small Space Garden Ideas we've tried in the past.  I'm really digging these ideas below: 
Elevated Cedar Planter Box and Space-Maker Pivoting Trellis Set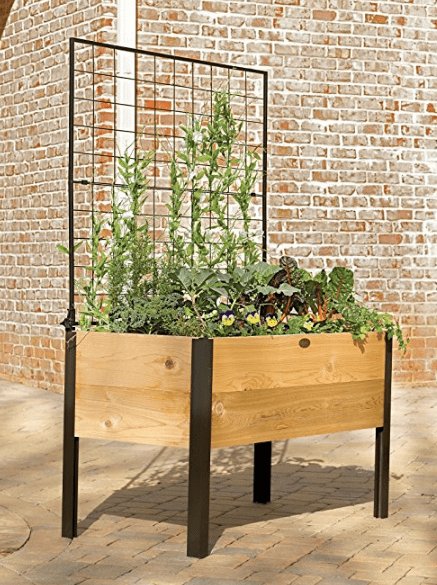 Hip height gardening seems to be a where I'm gravitating to lately, and I really like the above planter with the trellis.  We could save some money, and customize one for ourselves, and here's a video from Lowes Home Improvement for some inspiration.  
I could always add in my own trellis with possibly a wooden lattice or pig wire,  Hmmmmm, the creative juices are flowing.     
Rolling Self-Watering Tomato Planter and Tomato Tower Support
I love that you can roll this planter to wherever you need it, because sometimes your plants may or may not need as much sun.  It's definitely a thumbs up for us back sufferers too.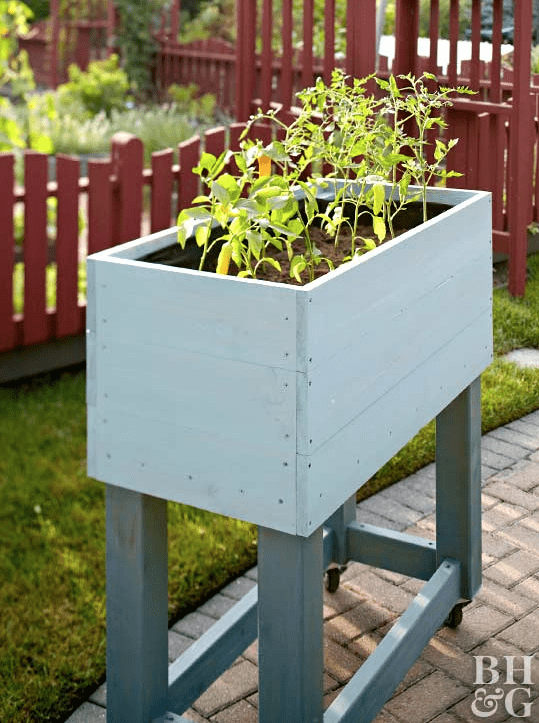 image courtesy of @ BHG
At first you might feel like you can move and groove in your garden, but trust me you're gonna get tired.  This heavy-duty rolling gardening cart will come in handy when you need to take a seat.  It's available on E-Bay $95
Garden Tools Set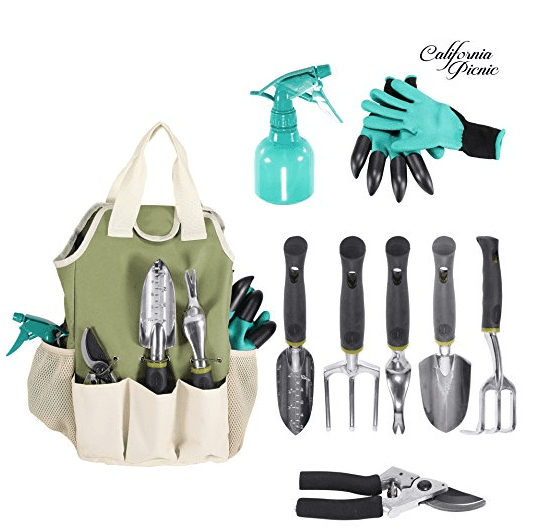 And for goodness sakes, have all of your gardening tools right by your side.  This gardening tool set has it all and it's made from aluminum so no more rusting of your tools.  Amazon $40
50ft Garden Expandable Water Hose 
This is my #1 tip when it comes to gardening and physical ailments.  Get a high quality expandable hose that easy to lift and move around, trust me your back will love you for it.  Plus, it shrinks right back up when your done with it, which means it's easy to put back up.  LOVE this hose.
So, there you go, these are the ideas I am looking forward to either trying or buying this spring, and If any of you out there are having a hard time with body aches and pains, I hope that you get well soon.  Happy Gardening Everyone!