I love to follow current trends in fashion and beauty, and today I was searching online for some gardening shoes and came across some trendy shoes, but also some garden apparel and tools that are made just for women.  So, below I thought that I would share some garden fashion finds that I think are really neat, but would also help me in my everyday to-do gardening activities.  So here we go…..
What I love about this apron, besides the variety of colors you can get, is that it is has tool pockets and plenty of areas to put your cell phone.  Trust me, you need a place to put your cell phone, because I have dropped my phone a time or two while answering my phone in the garden .  🙂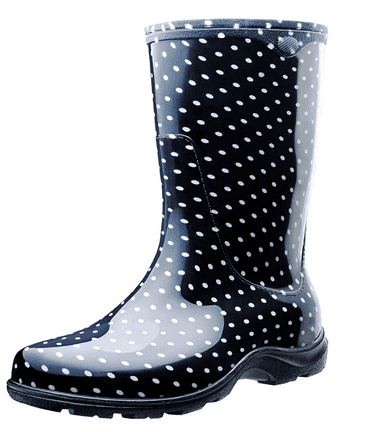 I live in an area that is loaded with red clay dirt, and having some great gardening/rain boots are must! These boots are so darn cute I can't stand it, and they will slip off and on with ease!
Gardening Hat & Gloves
If you want to get some serious gardening work done, then having a quality pair of gardening gloves is essential, and I always wear a hat to protect my face and head from the suns rays!  (Last year I had a dark skin spot test positive for pre-cancerous cells, so no more messing around in the sun unprotected for me)!   
Gardening Gift Tool Set
To top off my gardening fashion finds is this really pretty Long Handled Garden Tool Set which includes wooden handled garden tools, gloves, and a knee cushion (which my old knees need).  I also found some potential Mother's Day gift ideas such as garden themed gift baskets, outside decor, gardening planters and patio furniture .  All of these items are available at a really cool online store called Hayneedle.com.  What I like about this site, is that they have competitive prices and most of their items have free shipping available!  So be sure to give them a try the next time you are looking for a particular home item !   (Just a simple savings tip)  🙂     

Just so ya know, that some of the links above are my referral links, which means I may get a small commission if you make a purchase, at no additional cost to you of course.  Thank you for your support, and I hope you enjoyed my gardening fashion finds.