One of my favorite places to hang out on the internet is Pinterest, and I just recently created a new board called Be My Valentine Gifts & DIY Ideas. It just amazes me how many creative V-Day ideas there is to decorate your home, cards you can make, or DIY gifts to give. For myself personally, some of the best "love" day gifts that I have received or given over the years are the funny ones. I appreciate getting personalized gifts that really represent my hubby or my goofy personalities. Here are some really cute Valentines Day gift ideas that I think are creative, fun, and perfect to give your loved one this holiday season. 🙂
Since my hubby and I are A&W Rootbeer Floats fans, this is a real fun couples gift basket. I love the "You Float My Boat" sentiment and you can find the kit instructions and printable at thirtyhandmadedays.com
Whether you're a beer drinker or not, I love the effort and time that was put into making this

Brewed & Puffy Painted With Love

idea from makethebestofeverything.com You could use a six-pack of beer, wine, cream soda or root beer! Regardless of which way you go, it's a gift that two can enjoy.
Young's His Money/Her Money Ceramic Piggy Bank
Now, wait a couple of years before you give this cute, pink, piggy bank gift for Valentines Day! 🙂 It's perfect for a couple who loves to save for a date night or for a little something special, (maybe a little bling, bling for the lady) Just make sure that you put a little money in it before you give it. LOL
Who wouldn't want love to get a cute Teddy Bear with your face on its shirt? Your picture could show you blowing a kiss, giving a wink, or crossing your eyes because you're so love struck! Now, I could get really creative with this gift idea! (CafePress.com)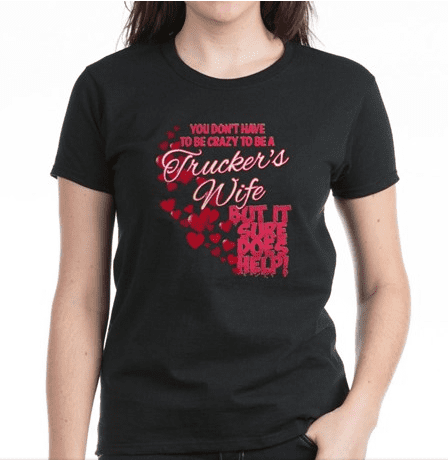 I am a truckers' wife, and I love giving & getting fun t-shirts as gifts! This Crazy Trucker's Wife t-shirt is just one of the fun, creative, and personalized t-shirts available at CafePress.com. These t-shirts are the perfect gift for your sweetie this Valentines Day!
Just so ya know, that some of the links above are my referral links, which means I may get a small commission if you make a purchase, at no additional cost to you of course. Thank you for your support, and I hope you enjoyed these funny Valentines Day gift ideas!