It's that time of year to get your outdoor decor shining bright!
Personally, I'm all about the outdoor lights, from solar to regular string lights the brighter the better I say!
Here's some ideas below to get you started, including something different if your planning a par-tay!
How cool is this trendy 16 inch LED lighted square?  It's waterproof, changes colors, and comes in different sizes, which means you can add color lighted accents to just about anywhere!
I love the simplicity of this dragonfly string light set, and it really reminds me of the summer season.  Of course if dragonflies aren't your thang….they have bees, palm trees, and even chili peppers!  
Super Tip:
I am a color-holic, and this glass, multi-colored mosaic gazing ball is my kind of gardening glam.  
You could pretty much build an entire color scheme around this gazing beauty.  🙂
And finally, I really like the unique design of this
solar powered lamp post
, plus the added planter allows you to enjoy some beautiful flowers during the day.  
Just another added detail to any garden decor.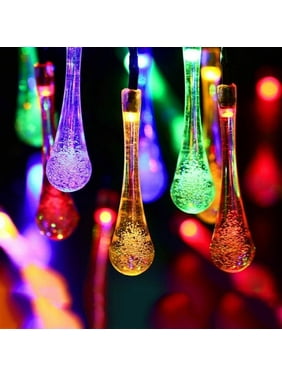 Just so ya know, that some of the links above are my referral links, which means I may get a small commission if you make a purchase, at no additional cost to you of course.  Thank you for your support, and if any of the above outdoor lighting ideas gives you a spark, let me know by leaving a comment below!