Beauty Supply products and I have had a very long relationship through the years, and it's been my #1 stop for all things hair, nails, and beauty supplies such as capes, clips and combs for the past 29 years.  OMGosh, that's a long time!  In fact, I can still remember getting my Pro Sally Beauty Supply membership card when I became a licensed cosmetologist in 1986, and I still get a rush of excitement every time I walk into their store.  Things have come along way, and today I can visit their online store anytime I want, so I thought that I would share with you my favorite beauty supply products, that I use for more than just hair care below: 
This post contains affiliate links, which means I receive a small commission if you make a purchase using this link.
Ladies & Gents….if you hi-light your hair, and it's in need of some tender, love, and care then I highly recommend this tried and true cholesterol hair conditioning treatment from Queen Helene for only $3.99!! Did you see that price!!!  This was the exact conditioning treatment that we used in my beauty school, and the bottom line is: it works to get dry, over-processed hair back in optimal shape!     
Tip:  Apply the cream liberally, put a plastic cap on, and let it sit for a while, or apply heat for 20 minutes with a hair dryer, sitting in the sun, or under a bonnet hair dryer
.  Rinse this cream out really well or it can feel greasy, and I would only use this when your hair is feeling really dry or after a color treatment.  
Speaking of hair caps, I never, EVER, go without having these plastic processing caps in my beauty arsenal.  At only $3.99 for 30, it's a super steal of a price that will last quite awhile.  (If you're a SBS member the price is $2.99)  I'm telling you those membership savings add up quickly.  🙂
Tip:  These caps can be used for at home perms, hair color, hi-lights, and conditioning treatments.  They are way easier to use then the awkward plastic bags that they put in hair color boxes, plus they actually cover your whole head, even if  you have thick, long, hair.
These Salon Care Butterfly Hair Clips are without a doubt the best hair clips that I have ever used.  Originally I used these clips for hair cuts, perms, and colors, but today I use them for so much more.  In fact, I have had some of my clips for over 5 years and that's not bad for a bag of 12 at $2.95.    
Tip:  I place a clip on my sun visor to hold my papers together, they're the ultimate snack bag preserver, and when I need a tiny pair of hands to help with my DIY projects these little guys are like mighty clamps with teeth.  Examples:  glue projects, large fabric holder, and it holds a large quanity of opened vegetable seed packets together ever so nicely.  🙂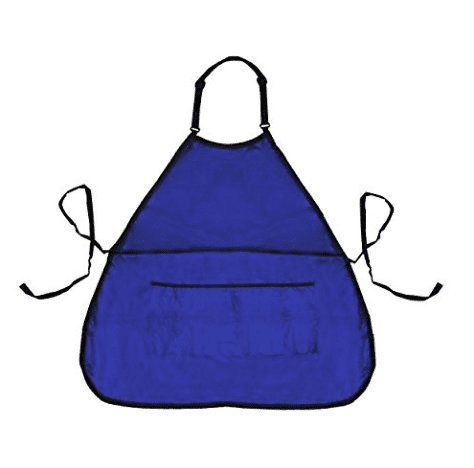 This Allure apron is a must if you're getting ready to do any DIY project because it's water and chemical proof, and for goodness sakes look at all the places to put your tools.  $16.00  (I thought that I would also mention that they have other plus size aprons to choose from as well).   
Tip:  Hey, how about wearing one of these so you're not ruining your clothes.  LOL  
Amazon carries a wide variety of pump dispensers for all kinds of bottles shape & sizes, and this particular one is for liters at $1.89.  
Tip:  For all you couponers out there, when you see liter shampoo or conditioner bottles go on sale, buy them up, and replace the cap with this liter pump dispenser.  It's a super way to save some money by teaching everyone how many pumps they need.    
*  See, what most people don't realize is that your hair only needs a pump or two of shampoo and conditioner to get clean.  Loading up on either of these products doesn't make your hair cleaner or healthier. Save the money, don't over do it.  
Some water or chemical trigger bottles are just plain old wimpy, and this sprayer is made for hair professionals to use every day.  What I like is that the trigger is strong, and allows a full spray to come out easily.  My hubby likes this spayer as well.  
Tip:  Here is my favorite DIY beauty dry shampoo, from (mommypotamus.com) that actually works, and this sprayer doesn't clog up like some of the others.  
More Ways To Save On Beauty Products
1. Sign up for Sally's Beauty Supply Specials newsletter.  
2. Join their membership club for $5 bucks a year, and you will recieve a $5 coupon on your first purchase, which basically pays for itself.  The membership allows you to buy products at a discounted rate, which really adds up, and they will send you member's only deals.
3. Check back often and visit their clearance section.
4. Sign up for all of their social media channels and have access to their different contests, beauty tips, and special savings.