I'm one of those geeky girls who love to wear themed jewelry throughout the year. I wear snowman, santa claus or snowflake jewelry in the winter, bunnies in the spring, seashells & starfish in the summer, and now I am on the hunt for some unique Halloween inspired jewelry. There are some super websites online that I have bought some of the coolest themed jewelry pieces from and of course their prices are ghastly cheap!!!! 🙂 Below are some spooky creations that I have found so far:
This black wedding ring set is so awesome! I love the sparkle against the black, and if you want to wear it all year-long, well go right on ahead spookster!
For those people who don't want to actually wear a Halloween costume, you can still celebrate the night by putting on a little scariness with this really cute skull necklace above!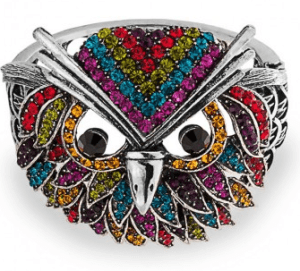 I may have outdoor gardening hands in the spring & summer months, but when the colder weather hits I get my diva on, grow my nails, and get my blingy jewelry out! I LOVE THE BLING in the above Halloween pieces at BlingJewely.com!

Just so you know, that some of the links above are my referral links, which means I may get a small commission if you make a purchase, at no additional cost to you of course. Thank you for your support and I hope that you find that spooktacular Halloween jewelry bling that fits just right and adds some sparkle into the night!