I really love the idea of using the water collected from a rain barrel to hydrate my flower garden this season.  Not only would I save a little money on my water bill, but I wouldn't have to drag a long, heavy, hose back and forth across my patio.  See,  I recently made several raised garden beds on the back side of my house,  and on the other side I have a really pretty flower garden, but the water source isn't close, and I made a rain barrel system which has given me some much-needed heavy, water hose, hauling relief!    
Below are just a few of the rain barrel systems that are available on Amazon.  Amazon has fair prices that are very competitive, they also offer Prime 2 day shipping, an array of unique home & garden design ideas like the ones below.  🙂  
Super Tip:  Here is a 

Rain Barrel Buying Guide

, from amatop10.com, so you can read the benefits of a rain barrel system, how they work, and the different types of rain barrel styles, accessories, and stands that are available.    
Check out some of the suggested rain barrel systems below that I think are not only functional, but stylish and economical.
  This is the perfect rain barrel if you are really limited in space, because it has a flat back, which means you can butt it up right against your outside wall.  This particular rain barrel comes in 5 different colors, so if you're a color coordination freak like I am, you have some pretty cool options.     $75-100 price range        
Functional, stylish, and in 4 different colors!   This 50 gallon rain barrel is a decorators backyard gardening dream and at a super price!  I love the urn style and that you can plant some pretty flowers on the top!    $100.  
 

Rain Barrel Rock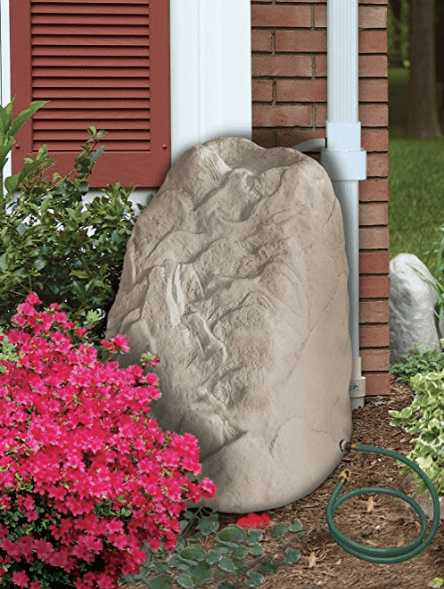 This 40 gallon rock rain barrel is just a really cool way to blend a water feature into any landscaping design that you might have, and it's something that most people won't have.  Ya know….a little something to brag about.  🙂   And….it's only around $85.     Just so ya know, that some of the links above are my referral links, which means I may get a small commission if you make a purchase, at no additional cost to you of course.  Thank you for your support, and I hope you take the plunge and become a gardening green thumb!