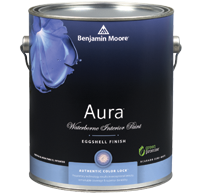 Benjamin Moore Aura, Waterborne Interior Paint, is a long name, but it's well worth memorizing the next time you are ready to colorize the walls in your home. I recently received a free gallon of Aura paint (thanks to BzzAgent) to experience for myself the featured benefits of this premium paint. The cool part was, that I had already planned on redecorating my bathroom, and this was a perfect time to begin my home improvement project.
This is the before picture of my bathroom, and as you can see, it is painted white on the upper half and dark navy on the bottom. I wanted to find a color that would give me the option to change the bathroom decor seasonally, so I decided to consult with a Benjamin Moore Paint specialist, and found a place called, Just So Decorating. The staff was extremely professional, knowledgeable, and courteous, and helped me pick out a rich, warm color called, Danville Tan.
On the day of painting, I wiped down the walls, poured my paint in the pan, and began to get my "roll" on. I noticed that the fumes from the paint were very minimal and as I began to apply the color, it rolled on smoothly and evenly. It also covered quite a bit of area before I had to reload my paint roller. This is one of the reasons that I like a paint with primer mixed right in. It saves you money, time, and more importantly, you get beautiful even coverage. My favorite feature of the aura paint, is that I only had to wait two hours before applying the second coat, which meant that it took me only half a day to finish painting.
So, how did it turn out? Did the color look exactly like it did on the color sample? This is the color sample, against the wall, and as you can see it's a perfect match. Benjamin Moore Aura, Waterborne Interior Paint has made me one happy painter, and I will most certainly buy this paint in the future. Now, I am ready to move on to the next phase of my bathroom project! Tiling! Wish me luck, and I promise to update and show you the final results!