The love bug must be in the air, because over the past several weeks I have talked to quite a few people who are planning their weddings, and looking for ways to save.  Honestly, I don't blame them, a wedding can cost as much as a brand new car or more if you're not careful.  Yikes!   Seriously, if my daughter told me that her wedding dress was going to cost $5,000, I think I would have a heart attack.  🙂   So, thank goodness, with a little imagination, determination, and reality about your budget, it's possible to have the perfect day to say, "I do" to the one you love, and I have to start with the DRESSES!      
The Wedding Dresses
AbaoWedding Lace Wedding Dress
The wedding dress, bridesmaid dresses, and mother of bride dress, are probably the first thing that most ladies start to look for, and once you get in the store be prepared for some serious sticker shock.  Now, after you get over your heart palpitations, start to look at what style of dresses your drawn to, try them on, and ask as many questions as you can about the design elements of the dresses.  
Is it a mermaid, A-line, princess, or empire waist fit?  
What kind of neckline looks the best on you: sweetheart, v-neck, one shoulder, or possibly strapless?  
Do you like lace, satin, chiffon, or tulle?  
And most importantly, what type of style best represents you:  
Vintage, princess, modern, classic, or maybe your just a beach loving babe and want something fluttery & free.  
Write all of these details down, including accurate measurements, so that you can now look online, and SAVE some serious money!!
Here are some different places that I have shopped at online, and have bought for different events, including dances that my daughter has attended and saved some serious cash.
I am a huge Amazon fan, and yes, it may take some time to find the right dress, but if you have written down all of the details that are important to you, you can find some Ah-mazing deals at this wonderful online store. I have personally found some dresses, tops, and pants in all kinds of sizes for my daughter & myself.  The best part is, that at these deeply discounted prices, you can buy several dresses in all kinds of sizes, (including plus), and if you don't like them, send them back.  Just make sure that you are paying attention to the ratings and comments of other buyers, and remember that you can get your dress altered for that custom fit.           
Super Saving Tip:  Get Amazon Prime and save a ton of money on shipping on your entire wedding day items!   2-Day Free Shipping!!!!!    
Don't forget about E-Bay!  What I love about E-Bay is that it's full of wonderful sellers, who want you to buy from them.  You can get a designer dress, that's slightly used or new for a fraction of the cost.  Plus, you can ask questions, and there are usually tons of pictures to look at before you buy.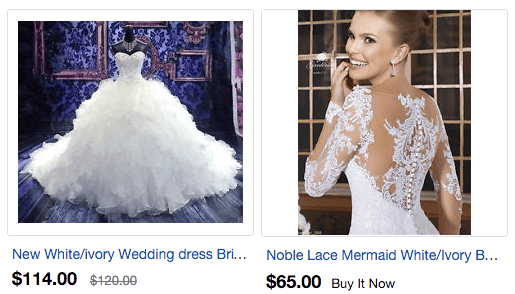 DIY Veils 
I can't say enough about how much I love being a part of the Craftsy community, and when it comes to saving money a little DIY goes a long way.  Here is an online class called: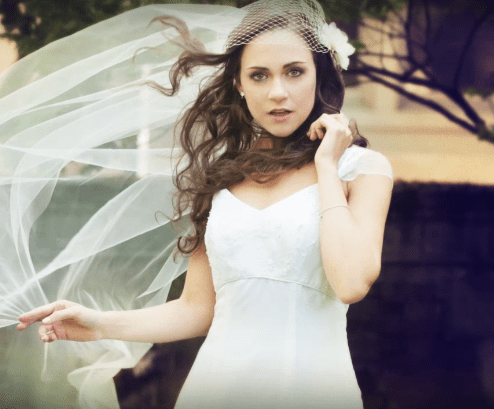 and if your really wanting to get a custom fit dress without the cost, you could find a dress at your local Craigslist listing, a thrift or consignment shop, and take the following class: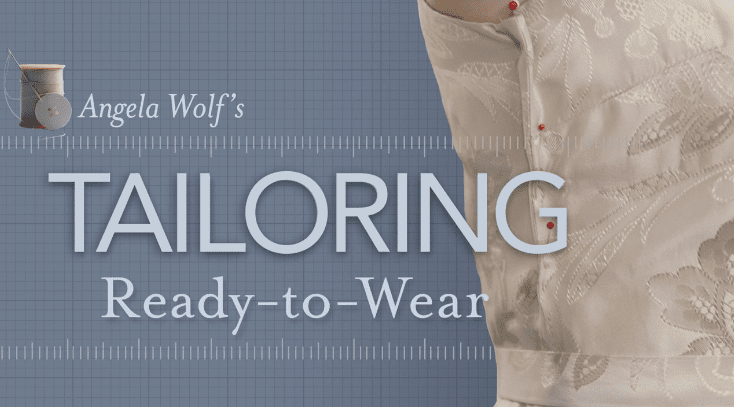 I would also suggest that you browse on Pinterest and see what other types of savings you can find.  It's one of my all time favorite places to be, so let's connect here:  SuperGirlSavings on Pinterest.  Let me know you found me and I will follow you as well.  🙂  I hope that some of these money-saving ways to save, give you a little encouragement that you can still find your dream wedding dresses without breaking the budget.
Just so ya know, that some of the links above are my referral links, which means I may get a small commission if you make a purchase, at no additional cost to you of course. Thank you for your support!