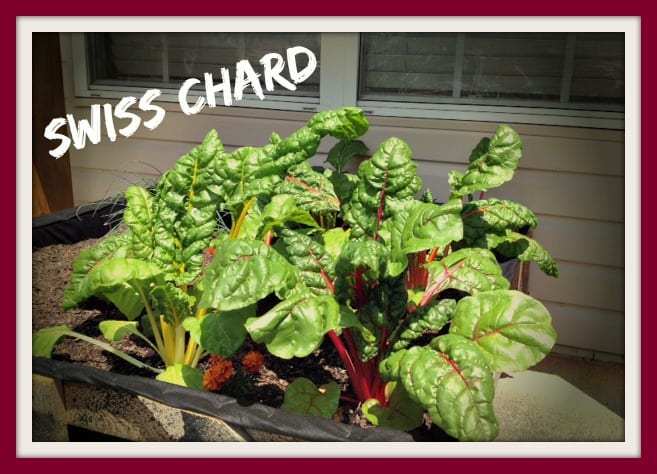 I love stepping out onto my back patio and seeing these monster swiss chard leaves coming up out of my raised bed garden! Look at those shining beauties above!!      🙂  
I actually discovered swiss chard only a few years ago when I went to a local market and they had it on sale.   I was drawn to the lovely, bright, colored stems, and huge green leaves.   I took it home, washed it, removed the stems, sliced the leaves, sautéed them in some olive oil, onions, spices, and I became an instant fan.     
From then on I have been growing my own, which I must say, is super easy, and it's the green that keeps on growing!   I swear that every time I harvest a leaf, a new one pops up in a matter of days, which is wonderful, because buying swiss chard in the stores isn't cheap.   So, my latest quest has been to find new ways to prepare my fresh swiss chard and here is what I've come up with so far.  
Swiss Chard & Pico-Di-Gallo
I know that this might seem weird, but my sister loves making a huge bowl of fresh Pico-Di-Gallo for our family get-togethers, and I always take a nice size bowl home afterwards.   So….since the tomatoes, peppers, onions, and cilantro had a chance to marinate for a couple of days, I decided to mix the Pico right into my swiss chard and saute it!   Verdict:  absolutely delicious, nutritious, and fast and all I added was a little extra salt & pepper!  Yum….
Here's a

link

to a simple Pico-Di-Gallo recipe if you would like to give this a try:
I could just kick myself for not coming across this

Pickled Swiss Chard Stem

recipe from

sharedappetite.com

sooner.  I love canning my garden goodies, and I'm always ready to try something new, so pickling & canning chard stems is right up my alley.   Seriously, look how beautiful that swiss chard is, and I love anything pickled.   
This is just one of the swiss chard recipes that I picked from a long list at one of my favorite low-carb recipe places: kalynskitchen.com   To me, there's nothing tastier then combining greens, cheese, and eggs because it's a meal within itself, simple to make, and bake.  
Since Swiss Chard's leaves are very similar to spinach, this Hot Swiss Chard & Artichoke Dip recipe from

canadianliving.com

 would make the perfect party appetizer.   Just add some veggies & your favorite chips and your ready to go.  I hope that you give these super swiss chard recipes a try for yourself, and if you have any more, please let me know in the comments below.  Happy Gardening Super Savers!  🙂