So…..I'm in a trendy clothes store the other day with my 16-year-old daughter, and I keep touching and saying, "OMGosh….I used to wear something just like this in highschool"!  
Of course, my daughter runs as far away from me as she can, which I don't understand, because I'm a TOTALLY AWESOME 80's babe!!  🙂
But, seriously, I felt like I had been transported in time, and I couldn't get enough of all the different styled jumpsuits, rompers, and maxi dresses.  
What I love about these classic pieces, is that they look good on any body shape, they can easily be dressed up or down, and worn to just about any occasion.  
Check out some of the fun & fabulous fashion finds I found online in a variety of sizes, designs, and price.    
Super Saving Tip:  Whenever you are going to make the decision to buy clothes online, take the time to read the reviews of others who have already purchased the item.  It's a great way to see what others have to say about the size, fit, and quality.        
Rooftop Balcony Jumpsuit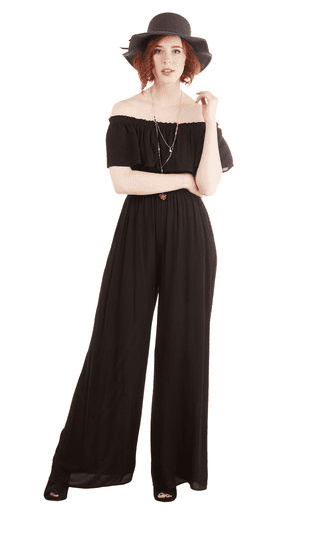 I LOVE the romantic feel of the Rooftop jumpsuit above, because it has wide flowing pant legs which are perfect for all of us ladies who like to cover our hips, rumps, and legs.  It comes in regular and plus sizes, and it's available at one of my fave online stores Modcloth.  $55
Little Bit Classic, Little Bit Chic Romper
I love the detailed sleeves on this romper, and it's perfect for those of us who like are arms covered.  It kind of reminds me of something that both Stevie Nicks & J-Lo would wear.  $50
If I were to walk into a store, my eyes would be drawn to the above KOH KOH dress!  I like the one shoulder design, abstract print, and fuchsia, black, and pink colors.  This dress comes in all sizes and at a super price of $50, available at Amazon.  You must check out all the dresses & designs by KOH KOH
Leopard Print Women's Jumpsuit
I'm one of those gals that likes a big, bold, leopard print, and this jumpsuit is all that and more.  It comes in at a super price of $17 bucks, and shipping is FREE at Rosegal.com.  (Limited sizes)
eVogues Plus Size Pleated Bust Strapless Romper
I had to share this plus size eVogues romper for all of us curvy ladies out there.  It comes in hot pink or black, and I would add a cute necklace & a pair blingy sandals.  It's available at Amazon for $38, and if you're looking for more trendy plus size styles, then click here:  eVogues Plus Size Styles
Sleeveless Color Blocked Jersey Long Maxi Dress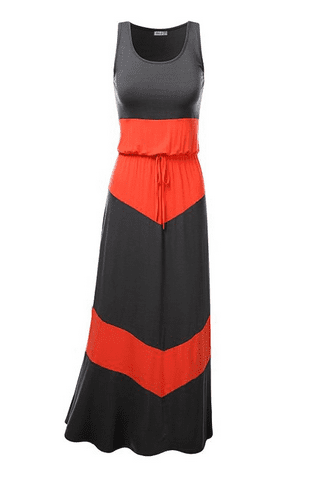 Shoot, I would wear this colorful maxi dress around town, at the beach, or lounging around the house.  It comes in several different colors & S-3X.  It's a steal at Amazon for around $30 and free Prime 2-day shipping.
I hope you enjoyed some of my jumpsuit, romper, and maxi dress picks, also some of the links above are my affiliate links and I may get a small commission if you decide to buy.  Thank you for your continued support.