Halloween is only a week away, can you believe it?  And to kick off the countdown to this spooktacular day, I am showing you some pictures of my past Halloween moments, and I apologize if some of the pics are a little fuzzy, this was before the techno advances that we have today….. and it's okay to be scared, because they frightened me too!  🙂 
Here is my daughter quite a few years ago, she was so proud of this Alice in Wonderland themed costume.  Of course, I thought she looked absolutely adorable, and I loved the 10/31 on the top of the hat.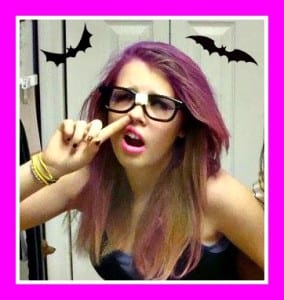 This is her two years ago as Nerd Girl. (LOL)  She really played this part really well don't you think?  🙂
And here is me as Pink Diva Barbie, my girlfriend as Peace Loving Barbie, and our scary Diva hubby's who re-purposed our wigs later that evening for their costumes!  

And finally, here are some carved pumpkins that I am really proud of, and I had to show you my huge cat's eyes that covered our two front windows of our home.  
Thank you for taking the time to share some past boo-ti-ful Halloween moments with me, and I wish you & your family a super, safe, and fun Halloween night next week!