One of the sweet perks, (and I mean literally for this post) about being a blogger is the opportunity to try new products and share my experience with all of you.   So, when I was asked if I wanted to try the New Peppermint flavored Oreo's that are available only at Food Lion stores this holiday season, I said, " Ahhhh….YES"!   I have personally always been a big fan of Oreo cookies & peppermint candies, so I can see why they blended these two together.   Below, is a picture of just a few of the chocolate, peppermint, and delicious cookies that were sent to me from Oreo.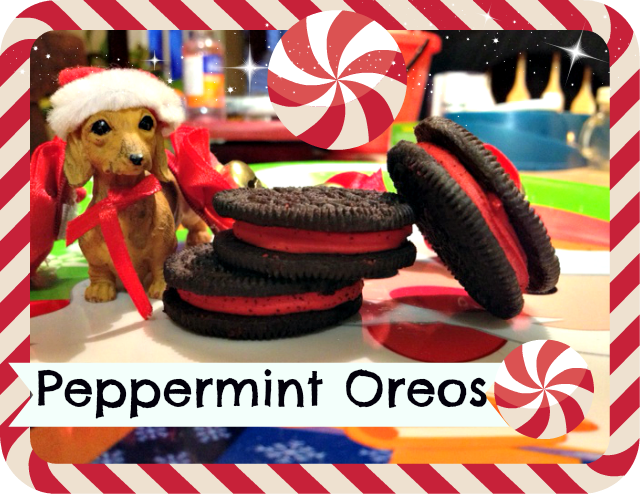 I also received a cool Peppermint-Oreo Cookie Ball recipe to try, and below are the ingredients that I needed.   
  And, here is how my Peppermint-Oreo Cookie Balls turned out!   

I have to tell you, that this was the easiest cookie recipe that I have ever made.  I couldn't believe that these cookie balls literally tasted like expensive truffles that you can only buy in an upscale candy shop.   My hubby & teen kids were also super fans, and I had to keep telling them to get out of the kitchen, because they were eating them all up.  🙂  
By they way….my cookie balls don't look as perfect as some of the others I have seen, because I dunked & sunk them in as much chocolate as I could, and loaded the crushed peppermint candies all over.  Now, that's my kind of sweets….big, bold, & plenty of peppermint pow!   
Here is the full

Peppermint Cookie Ball Recipe

, & I hope you enjoy these as much as I do.
1 pkg (8 oz) cream cheese, softened
1 pkg (15.25 oz) 

OREO

 Cookies with Peppermint Cream, finely crushed (run them through a food processor for best results)
1 pkg (4.25 oz) semi-sweet baking morsels
1/2 bag starlight mints or a few candy canes, finely crushed
Directions:
Mix cream cheese and crushed Oreos until very well blended.
Use a spoon to scoop out balls and round them with your hands.
Place in a single layer on a cookie sheet lined with wax paper.  
Place cookie sheet in the freezer for at least 15 minutes (this will allow them to firm up and make the coating process much easier)
Melt the chocolate in the microwave, stirring every 30 seconds until completely melted.
Working quickly, coat cookie balls with chocolate. Use 2 forks to help ensure that they get coated well.
Place coated balls back on the wax paper and sprinkle with crushed starlight mints/candy canes.
Return Oreo cookie balls to the refrigerator for 10 minutes to allow the chocolate to completely firm up.