I love when I have a "great" hair day, but as I keep getting older those days don't seem to come as often.  So, I really appreciated receiving a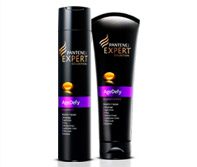 sample of the New Pantene® Expert Collection AgeDefy™ Shampoo & Conditioner system, courtesty of being a Vocalpoint member!   When I opened the shampoo packet, I noticed that the shampoo had a thick, creamy, texture, and it lathered extremely well, but it also rinsed out of my hair easily.    
Next, I was ready to apply the conditioner, and I am usually hesitant about using conditioners, because it tends to weigh my hair down.  But, I would love to find a conditioning treatment that wouldn't do this, because I know my color treated hair needs some therapy.    So, I applied the conditioner, rinsed it out, and after I towel dried my hair, I combed through it effortlessly,  which is wonderful if you have fragile hair like I do.  Now,  I was ready to blow dry my hair and see what it looked like.  The picture to the right is one that I uploaded today, and I thought that I would show you what my hair looked like after I dried it and clipped it up.   Let's be honest, this is a typical way that many ladies wear their hair on a daily basis, but what I loved was that my hair felt nice and full when I clipped it in.  That's a huge plus for me, because I don't want to use tons of hair spray to keep my hair up and in place!  YEAH!  
Bottom line for me is, that I really like the New Pantene® Expert Collection AgeDefy™ Shampoo & Conditioner system,  first because it didn't weigh down my fine, color-treated hair, and second it made my hair feel full.  If you are dealing with the signs of aging hair like I am, you may want to give this New Pantene® Expert Collection a try because every little bit helps.