With the upcoming holiday season fast approaching, I thought that I would share a list of some fun, frugal, and fabulous gifts for all of us Dachshund lovers out there.  So here are some wiener gift ideas below:  Get it?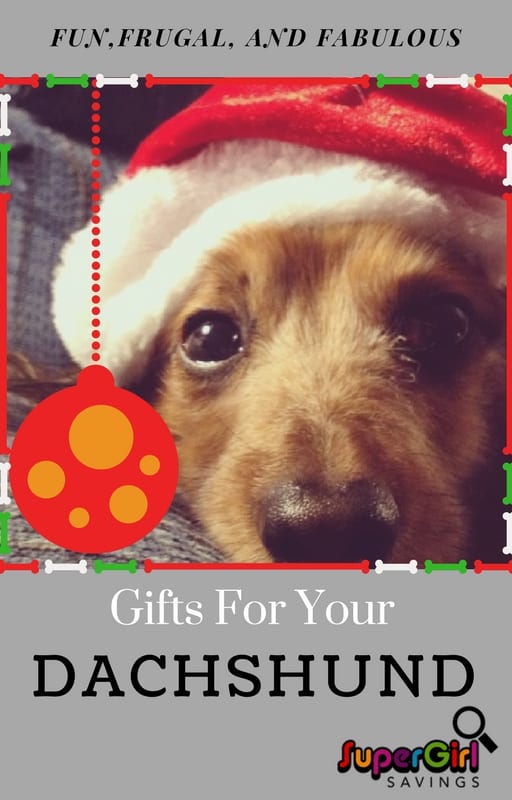 My Dachshund pup, "Cinnaman", has been a part of our family for 13 years now, and yes, she is a spoiled princess, and I wouldn't have it any other way.
 This post contains affiliate links, which means that if you click on one of the product links, I'll receive a small commission fee if you decide to buy.  Thank you for your continued support.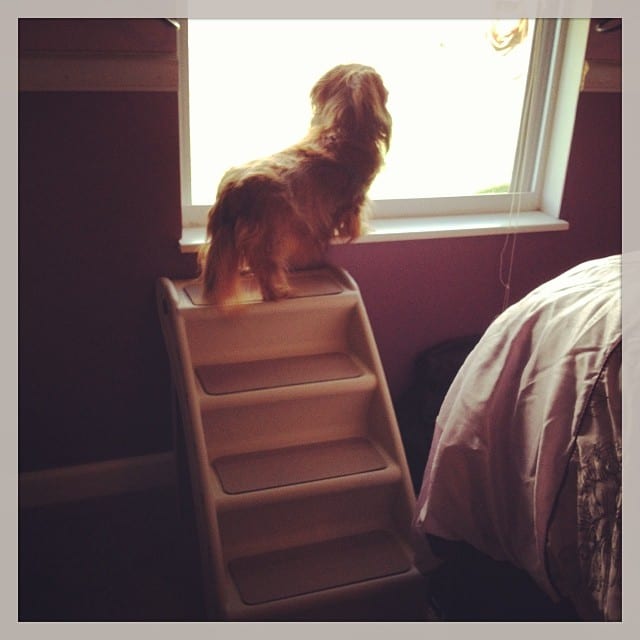 Yep, my mom, who probably loves this dog just about as much as I do, bought these stairs
so she can see what's going on.  I'm tempted to get this Dog Booster Seat
, because she loves going on rides and barking at everyone she sees.  LOL
Sharing a little puppy story:  The moment that I saw Cinnaman's tiny, dramatic, adorable puppy face at the pet store, I knew that she was meant to be mine.  So, I went home that very same day, and asked my hubby and kids if they wanted to go to the pet place and see the new puppies.  Needless to say, when we got to Cinnaman's cage, I pretended like I had never seen her before.
She was busy jumping on the bigger puppy that was in the cage with her, which was funny, because she was no bigger than the palm of my hand.  I knew by the look on my hubby's face, that she was coming home with us.  🙂
Doxie Ice Cube Tray
Ok, this Doxie ice-cube tray is really cute, and useful, but would make the perfect budget friendly gift for around $10   I'm also loving this Dachshund cookie cutter and cake pan.
Dachshund Through The Snow Black Phone Case
I really liked all the Dachshund Through the Snow sweatshirt and t-shirts that I saw on sale last year, and this cell phone case available at e-Bay is even better.
My puppies absolutely love to travel, and this small travel bag has it all.  I really like the convenient water and food bowls that are provided, easily go on the zip down platform.  Of course, I wish those little Terriers were little dachshunds, but it's still really cute, and it also comes in other solid colors.
I have black cloth seats in my little Honda fit, and whenever I take my dogs out for a trip, their hair gets all over the place.  My really smart mom has this back seat car cover which helps the hair and anything else the dogs like to step in off the seats.  Hint: This would make a perfect gift for me.  🙂
Dachshund Fashion
Sterling Silver Dachshund Pendant Necklace
I love theme inspired jewelry and accessories, and this since were talking Dachshunds, this sterling silver pendant necklace from Amazon, it is the perfect Doxie lover gift.  I also love this sterling silver bracelet which is custom made and simply beautiful.  Super cute.
Snoozies Dachshund Slippers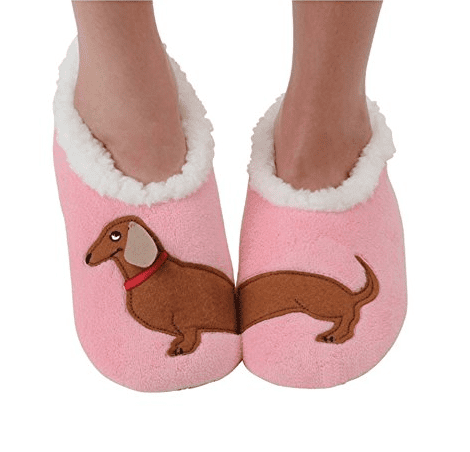 Ok, these pink Doxie slippers are just too darn cute, and something that I would wear proudly, even outside for all my neighbors to enjoy!  (I admit, I do that once in a while).  They also have other Snoozies slippers that are really funny, including sushi, wine lovers, and martini.
These are just a few really precious, fun, and fabulous Dachshund gift ideas, and I know that there is a huge Doxie community out there, who enjoy sharing their love for their Weiner dogs. If you know of other really unique gift ideas, please let me know in the comments below, or simply share a pic of your little one.