Over the past year or so I have been dealing with some serious heel pain issues…can you hear me singing, "I Got The Heel Pain Blues" song?  🙂   Now, if you don't know what heel pain feels like, it goes something like this:  A big, fat, sharp knife is being stabbed into the bottom of your heel every time you put your foot down to walk.  OMGosh, it hurts to even write these words.  It's a good thing that I am a really positive person, but I would be lying if I didn't tell you that at times I can get a little depressed because I can't do all the things that I love to do, such as going for long walks in the park, participating in my Zumba videos, or simply getting in the river with my family to play.  But, thank goodness there is ways to get some relief from heel pain, and I thought that I would share some of the different treatments that I have tried through the years with some success.  
I am breaking this post up into two parts, because for some people the following treatments will be enough to get on the right road to recovery.  For others, you might have to take it up a notch, and I will go over that in part 2.  So, here we go!
The first time I had heel pain was 17 years ago and I thought that my world was coming to an end, so I sucked it up and went to see a Podiatrist.  I learned that the official diagnosis for heel pain is "plantar fasciitis" (say "PLAN-ter fash-ee-eye-tus"), and I basically over stretched the tendon that runs across the bottom of my foot, that connects my heel bone to my toes.  
READ THIS DISCLAIMER PLEASE!!
I'm going to stop right here and let you know that I am NOT a physician, and the expressed treatment suggestions that I'm going to tell you about are ones that I have used with some success.  I am writing this post, simply because I have a deep passion to help anyone who is going through this debilitating condition, and these home treatment methods are worth trying.  I am also a certified Podiatric Medical Assistant, and I have been the business manager for a Podiatry practice for the past 17 years.  So,  I do know a thing or two about heel pain, but PLEASE remember that everyone is different and if these treatment suggestions are not working for you, PLEASE go and see your local podiatrist to get professional medical help.   
Ok….now that I got that fun disclaimer stuff out-of-the-way I'm going to give you some simple, beginning, treatment options to try at home, and it's really important to give yourself at least 2-3 weeks to see if these methods are working.  Remember, if your like me, most of us wait forever to visit the doctor, and when we do this it can sometimes take a little longer to recover. Be patient and try to stay positive.   🙂  
1.  Stretch, Stretch, and Strengthen That Foot! 
I can't express to you how important it is to stretch your heel and arch area before you get out of bed, take that first step in the morning, or when you've been sitting for and extended period of time. It's also important that you try to strengthen arch muscles, click here to see an example of what I mean.  Foot stretches & strengthening exercises.
I also like to lay in bed and pull my toes backwards towards my head a few times before I put my feet to the ground, we call this the Toes To The Nose stretch around here!   
2.  Get Supportive Sneakers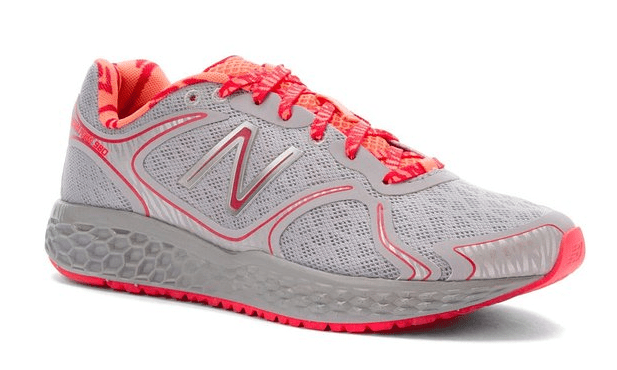 I am a professed sneaker snob, and when I go to the shoe store you better watch out!  LOL  Here's the biggest advice that I can give to you if you have heel pain, buy quality athletic shoes that offer arch support, motion control, and stability, and Brooks, Asics, and New Balance shoes are all known to provide these features.  I know that these shoes are not cheap, but in this case you do want to invest in a quality shoe, and from personal experience I can tell you that a better shoe is worth every penny, especially if you are super active and always on the go!   
Finally, I highly recommend that you get a pair of these (as I call them), Heel Pain Socks!  These socks are meant to give your foot stability, and help lift and control that arch area.  They will be tight at first, so that they give you the support that you need, so make sure that you order the right size.  They come in three different colors, black, white, and Natural which is great to wear in the summer time with sandals.  Trust me, when your dealing with this type of pain, you won't mind wearing some socks with your sandals.  LOL  And by the way, if you're hurting REALLY BAD, for goodness sakes take some type of anti-inflammatory and rest your feet!  It will at least give you a little comfort until these other treatments have had a chance to work.
 Just so you know that some of the links are my affiliate links and I will get a small commission if you decide to buy!  Thank you for your support, and I hope you come back for part 2 of my Heel Pain Blues article.