It's been SUNNY and HOT here in East Tennessee these past couple of weeks, and I am so thankful that my friends at BzzAgent sent me some samples and coupons of Coppertone's New Clearly Sheer sunscreen to try, share, and review.   Since I spend a lot of time outside digging in my garden, working on DIY projects, and going to different outdoor events on the weekends, it's extremely important that I apply some sunscreen, and for a good reason.  
A couple of years ago my doctor noticed a unusal spot on my skin, he removed it, and had it tested.  To my surprise it came back pre-cancerous, which was a huge wake up call, and ever since then I have been faithful about applying sunscreen.
The biggest problem that I have had with most sunscreens, is the heavy, greasy, feeling that it leaves behind after I apply it, which doesn't work well under my make-up.  So, I was eager to try Copperstone's Clearly Sheer sunscreen, and here's my take away:
    There are two choices to choose from, depending on what you're doing that day.  If you're heading to the beach or pool, you will need the Beach & Pool with 50 SPF which is made to stay on your skin for up to 80 minutes when your swimming & splashing around.  
  If your running around town or want to add some protection under your make up, the Sunny Days with SPF 30 is your choice.  Both sunscreens have a light, fresh, scent which isn't overbearing, and they melt right into your skin without leaving a greasy layer behind, which means that it doesn't clog those pores and cause skin problems.  Yay!!!!!   (The Coppertone Sunny Days blended really well under my make-up, which is a huge thumbs up for me).  I gave several of my friends some samples of Clearly Sheer, and all have reported back to me the same results that I have found, super sun protection without feeling like it.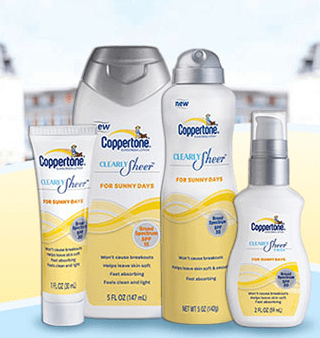 If you want to learn more about Coppertone's Clearly Sheer, head over to their website here.  Also, if you would like to become a part of the BzzAgent community and give your own bzz about products & services click here.