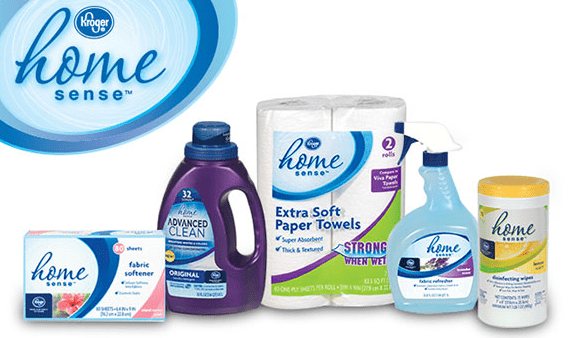 Thanks for stopping by and checking out my review of the Kroger Home Sense cleaning products that I received above, courtesy of being a BzzAgent & Kroger brand stores.  And lately, I have been cleaning, deodorizing, and disinfecting quite a few rooms in my home over the past several weeks, due to some family members getting sick and having two little dogs bringing the fall leaves & mud in & out of the house.  🙂      
On the day that I picked up my products, (above) Kroger happened to be running a huge sale on other Home Sense cleaning products, so I decided to also try their dishwashing dish pacs as well.   Notice: the $2.69 price tag in the pic below!   
I have to say up front, that I have tried different Kroger brand store products in the past, and have never been disappointed with their effectiveness & quality, and the same goes for these cleaning products as well.   The only difference is the lower price, and that's what keeps me coming back.  It's funny to me, how some people won't even give these products a glance or chance.    
In fact, if you're a paper towel connoisseur, like I am, than the Kroger Home Sense Extra Soft paper towels are worth that chance.   They are like thick, absorbent, little wash cloths that tackled quite a few messes for me.   I also liked how the smaller roll fit nicely under my cabinets, which gave me plenty of counter space, and I swear, the sheets that I pulled off just kept on coming!  Which means savings for me, and because I am a Kroger Plus card holder, I already received a coupon for my next Home Sense paper towel purchase right there in the check out line.  You just can't beat the savings that Kroger willingly provides!
Listen, I don't look forward to all of the holiday messes that will come my way this season, but I will enjoy the cleaning power & savings of Kroger's  Home Sense cleaning products.   Also, please remember to sign up at  Kroger.com and you will get tons of exclusive, personalized, savings on your purchases, including Home Sense products,  and so much more.   Happy Holiday Cleaning Guys!    And, did I mention how much I LOVE these paper towels!  I just had to show you how much!  LOL